The Bloghaus template was inspired by the bold asymmetric forms and sans-serif "new typography" favoured by the Bauhaus design school in Germany in the early part of the twentieth century.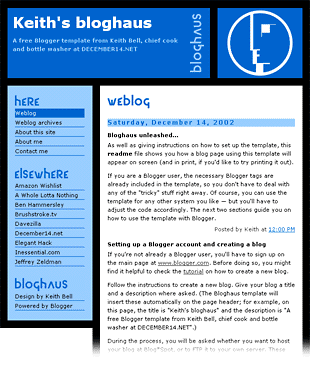 Features
Bloghaus is a table-free design, relying entirely on Cascading Style Sheets for layout and presentation. Further:
The template files as supplied generate valid XHTML 1.0; they are Bobby-validated for WAI Level A and Section 508 compliance; and the style sheets are valid CSS2.
Bloghaus appears "fully styled" in version 5+ browsers, and has been tested on Internet Explorer, Mozilla, Netscape and Opera on both Windows and Mac platforms. Older browsers and other internet devices will see an unstyled but well-structured HTML document.
The blog template is supplied with the necessary tags in place and is ready for use with Blogger, but may be adapted easily for other systems.
A trivial amount of JavaScript is employed to enhance the presentation of the archive index page when used with Blogger. However this degrades gracefully in browsers in which JavaScript is not enabled, and does not impair accessibility.
A style sheet for print media automatically strips out unnecessary menus, page decoration, etc. when printing from CSS-compliant browsers.
The readme.html file supplied serves as an example of how a blog page will look, as well as providing set-up instructions and other information including

editing the HTML template files
setting up additional pages (templates and graphics are included for "About Me", "About This Site" and "Contact Me")
a comprehensive style guide with typography and font information

of which you can use as much or as little as you wish.
Naturally, you can customise the templates with your own blog title and description, links to your favourite sites, and so on.
Terms and conditions
The Bloghaus design, HTML templates, CSS and graphics files are licensed under a Creative Commons Attribution-NonCommercial licence. In short, this means that you may use and modify the templates and style sheets to suit your own needs as long as:
You do not "pass off" the original design as your own.
You credit me with the original design by linking back to this page (a hyperlink is already built into the templates).
You do not use my work for commercial purposes, i.e. you do not attempt to make money by distributing my work or any derivative work based upon it.
You do not remove references to the Creative Commons licence from the templates' HTML code, where it is contained within comment tags.
IF YOU HAVE REVIEWED THE LICENCE AND YOU ACCEPT THESE TERMS AND CONDITIONS, YOU MAY PROCEED TO DOWNLOAD THE TEMPLATE FILES: